Don't hesitate to contact us with any questions. We're here to help.
When it comes to renting a portable toilet, we're industry experts with decades of experience!

 
Our team is dedicated to helping you design the perfect solution for your event or site.

We are here for all of your portable restroom needs including:
• Construction Sites
• Graduation Parties
• Weddings
• Golf Courses and Parks
• Large Special Events
• Agriculture
• And more...
All units are exceptionally clean and fully stocked with all of the supplies you will need, including toilet paper and hand sanitizer/dispenser.

We take care of everything for you to give you a hassle-free experience. Convenient pick-up and delivery.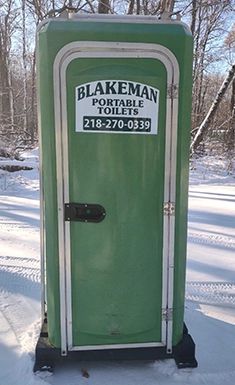 Standard
Our standard portable restroom is a great choice for any event or site.

Features:
• One piece EZ clean polyethylene
• Light weight
• Rust-Free Hardware
• Aluminum air Vents
• 60 Gallon Holding Tank
• Urinal
• Toilet Paper Dispenser
• Polyethylene or Wooden Skid

Specs:
• Depth         52"
• Width         

40"


•

Height        90"


•

Weight        180 lb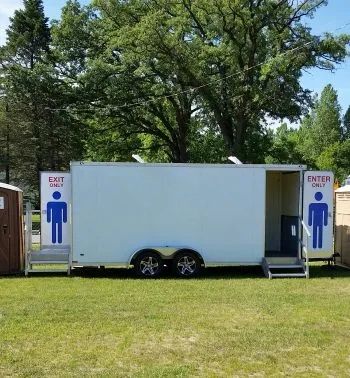 Urinal Trailer
Perfect for busy events and festivals, especially those where a beer garden is present.

Keeps the guys moving and helps eliminate long lines at the portable restrooms.

Less time in line for restrooms means more time people have to spend money with vendors or at the beer garden.

Specs: 
This trailer will contain approximately 3,000 uses, so event can eliminate 8 regular portable restrooms and still keep traffic moving faster.
Handicap
Spacious wheelchair accessible portable restroom.

Specs:
• Width (exterior): 62" (1575mm)
• Depth (exterior): 62" (1575mm)
• Height (exterior): 91" (2311mm)
• Door width: 32.7"(132L)
• Door height: 80.8" (2054mm)
• Seat height: 19" (483mm)
• Tank vol: 35 gal. (132L) or 68 gal. (257L)
• Weight: 250 lbs (107Kg)
• Hand sanitizer dispenser included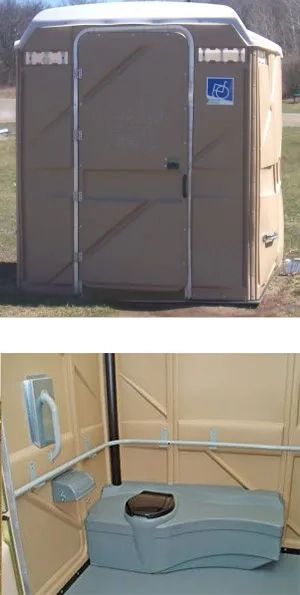 Handicap + ADA Compliant
Spacious ADA compliant wheelchair accessible portable restroom.

Specs:
• Width (exterior): 66" (1676.4mm)
• Depth (exterior): 86.5" (2197mm)
• Height (exterior): 90.5" (2298.7mm)
• Door width: 32.7"(132L)
• Door height: 80.8" (2054mm)
• Seat height: 18.5" (469.9mm)
• Tank vol: 35 gal. (132L) or 68 gal. (257L)
• Weight: 310 lbs (141Kg)
• Hand sanitizer dispenser included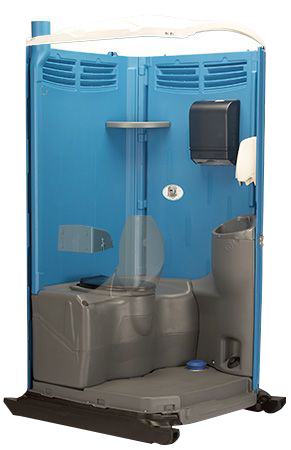 V.I.P. Series
Our luxurious V.I.P portable restroom has great amenities... lights, fresh water sink, mirror, and more.

Specs:
• Height: 90" (2286mm)
• Width: 44" (1118mm)
• Solar Powered Lights
• Fresh Water Sink with Hand Soap
• Paper Towel Dispensers
• Mirror
• Carpet
• Interior Flower Arrangements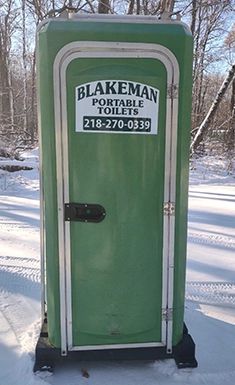 Flyer
Hooks to crane for easy lifting at construction sites.

Specs:
• Height: 88" (2235mm)
• Width: 44" (1118mm)
• Depth: 48" (1219mm)
• Weight: 230 lbs. (105kg)
• Hand sanitizer dispenser included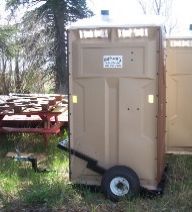 EZ Trailer
EZ Trailer for Transportation. Perfect choice for job sites that need mobility.

Specs:
• Height: 88" (2235mm)
• Width: 44" (1118mm)
• Depth: 48" (1219mm)
• Weight: 230 lbs. (105kg)
• Hand sanitizer dispenser included